Safeguarding Children and Internet Safety
Safeguarding
We as a school are committed to ensuring the safety and well being of our children at all times. We do this by providing a safe environment for them to learn and develop whether this be in the classroom or using external resources found on the Internet.
In this section of our website, you will find details of our safeguarding practices and our Internet safety procedures which you can also use and follow at home.
Safeguarding Children
Safeguarding pupils includes a wide range of criteria across the broad curriculum: well being, equality, attendance, security, road safety, safety from bullying,mental health,child protection, health, inclusion,online safety, Relationships and behaviour. These are all embedded into our curriculum which promotes good opportunities for pupils to talk and learn about these issues. We encourage our pupils to be involved in knowing about their own rights and responsibilities to keep safe and safeguard each other. We also require our staff, volunteers, students and governors to follow codes of conduct that ensure safeguarding measures.are followed. Our Governors and staff are dedicated to safeguarding pupils in our school. We understand and act on our statutory duty to keep pupils safe in education. We urge families, staff and governors to report any concerns regarding children's welfare. We work together to inform, prevent, protect and support our community from the main categories of abuse
Emotional abuse
Physical abuse
Sexual abuse
Neglect
This may also include older siblings not at this school but who may be subject to pressures from Peer on Peer abuse such as Up Skirting or Sexting, Children's Sexual Exploitation, Sexual Violence, Online abuse, Domestic violence, Female Genital Mutilation, Cyber Bullying or Radicalisation into extreme views. County Lines is recently reported to affect children in areas like ours- this is where young children and vulnerable people are targeted into selling drugs for gangs.
Schools play a large part in protecting children. We aim to provide a safe environment that is conducive to learning. We also aim to identify children who are suffering or likely to suffer significant harm, and take appropriate steps to keep them safe in school and at home when required.
As a school there are set government guidelines which we have to adhere to regarding the safeguarding of our children. Some of these are listed below:
Department of Education - Keeping Children Safe in Education
Department of Education - Keeping children safe in education: for school and college staff (part 1)
Working Together to Safeguard Children
Reporting a Concern
If you wish to report a concern please fill out one of our, Reporting a Concern forms, to download please click on the link below:
Alternatively please contact one of our Designated Safeguarding Leads:
LOUISE JACKSON - Headteacher - Tel: 01485 570357
EMMA HUNT - Deputy Headteacher - Tel: 01485 570357
SHONA WALTERS - Tel: 01485 570357
If you think it is urgent - call the number below number now:
0344 800 8020
or visit the Children's Advice and Duty Service (CADS) website and follow the instructions for reporting a concern. Please click on the link below to view the website
Additional Information and Websites
Our School policies and procedures work alongside other professionals to give a multi agency approach to safeguarding children, please find important information here:
If you have any issues regarding the safety of a child then please do not hesitate to contact the school to talk to a member of staff.
Internet Safety
Here you will learn how you and your children can stay safe on-line. We hope that together you will enjoy using the Internet, and have fun, but please remember to use the Internet safely.
Using the Internet
While technology plays an important role in our children's everyday lives there are risks involved. It is important that while we provide our children with the skills and knowledge to use the ever expanding technology we also provide high quality e-safety education. We want all of our children to use the technology confidently but also to feel comfortable enough to deal with any issues that may arise.
Please click on the links below to view some Internet safety guidelines that can be followed at home:
How to be Safe Online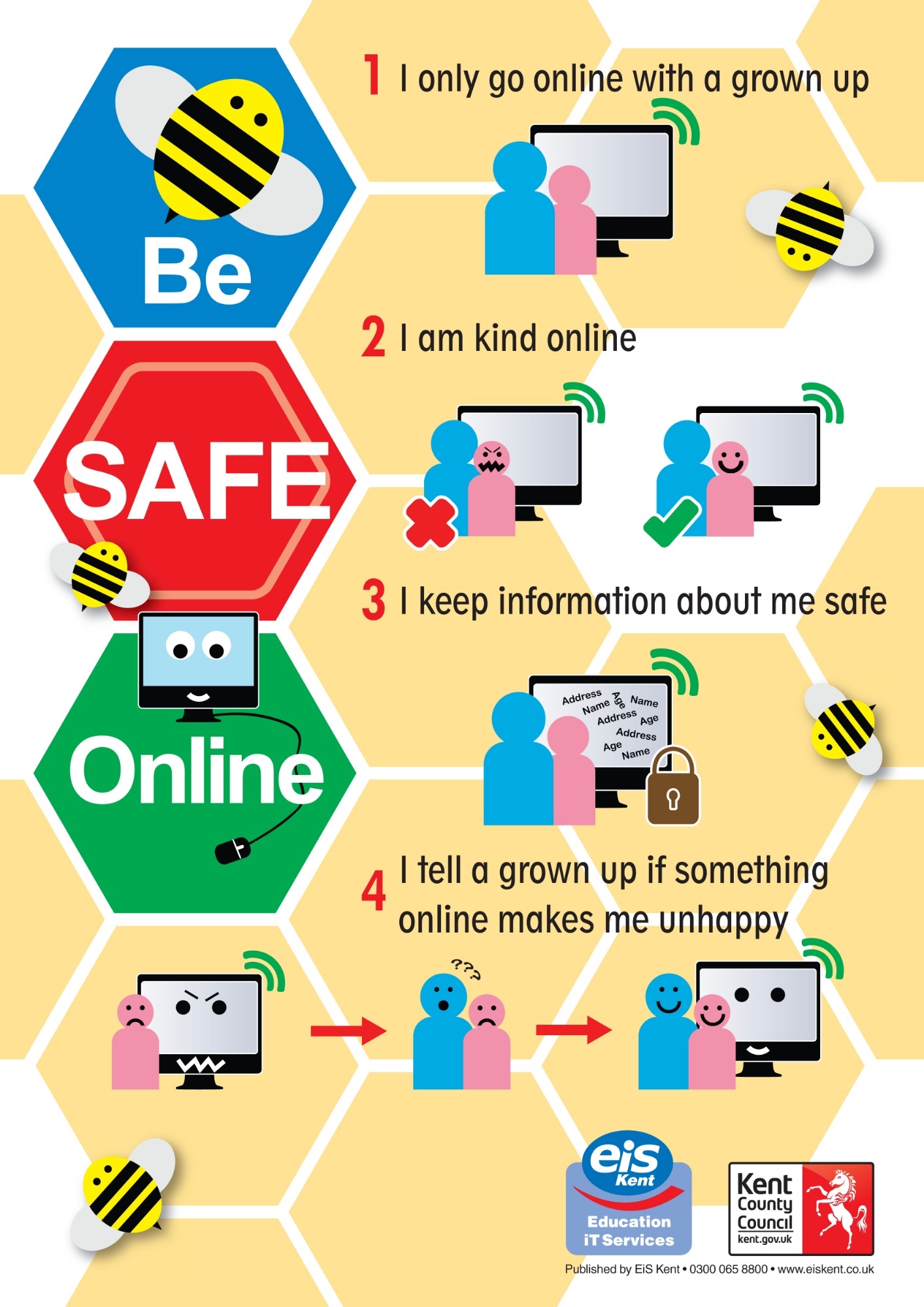 Useful E-Safety Videos
Jessie and Friends - Episode 1 - Watching Videos - 4-5 years
Jessie and Friends - Episode 2 - Sharing Pictures - 5-6 years

Jessie and Friends - Episode 3 - Playing games - 6-7 years
Other Useful Websites
Internet matters - for support for parents and carers to keep their children safe online

London Grid for Learning - for support for parents and carers to keep their children safe online

Net-aware - for support for parents and careers from the NSPCC

Parent info - for support for parents and carers to keep their children safe online

UK Safer Internet Centre - advice for parents and carers and to report and remove harmful online content